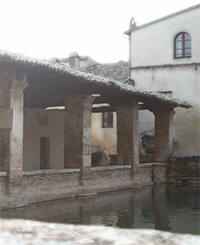 VIANDANTI

(Nostalghia paths, homage to Andrei Tarkovsky)
Radio show produced by Radio Papesse
for the Radia Network, October 2012
Viandanti (Nostalghia paths, homage to Andrei Tarkovsky) was built using:

• field recordings taken in Bagno Vignoni (Siena – Italy) in September 2012. This little Tuscan town is one of the most peculiar Tarkovsky's Nostalghia location and it's characterized by a rectangular tank in place of the main square, which contains water that comes from the underground hot springs

• recordings from the Nostalghia's set.

• various field recordings taken in Val di Merse (Siena – Italy) the area where Giulio was born and where he actually lives. In Val di Merse is also located the Abbey of San Galgano, another Tarkovsky's Nostalghia location. The field recordings comprise sounds from a procession, the melting snow, the small river Merse flowing…

• granulized fragments of the Symphony No. 9 in D minor, Op. 125 by Ludwig van Beethoven. The symphony is the preeminent composition of the Nostalghia's soundtrack.

The recordings of the hot springs taken in Bagno Vignoni some days ago slowly merge with sounds coming from a set of 30 years ago, like following eyes from a middle '800 daguerreotype portrait with one's eyes. The aquatic sounds flow like a tale with the other different sounds coming on their path like wayfarers, sometimes they follow the movie narration and mood. The granulized fragments of Beethoven's Ninth Symphony come like a soundtrack that suspend the time.
Radia network is:
CFRC 101.9 FM (Kingston, CA)CKUT (Montréal, CA)Curious Broadcast (Dublin, IR) free103point9 WGXC 90.7-FM (New York, USA) JET FM (Nantes, FR) Kanal 103 (Skopje, MK) Orange 94.0 (Vienna, AT) Radio Campus (Brussels, BE) Radio Corax (Halle, DE) Radio Grenouille (Marseille, FR) Radio Helsinki (Graz, AT) Radio One 91 FM (Dunedin, NZ) Radio Panik (Brussels, BE) Radio Papesse (Florence, IT) Radio Student (Ljubljana, SI) radio x (Frankfurt/Main, DE) Rádio Zero (Lisboa, PT)RadioWORM (Rotterdam, NL) Reboot.fm (Berlin, DE) Resonance104.4fm (London, UK) Soundart Radio (Dartington, UK) TEA FM (Zaragoza, ES) XL Air (Brussels, BE)